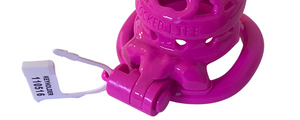 Chastity & Hygiene
Keeping your chastity and yourself clean is incredibly important, keep unsavoury odours at bay and ensure a clean, comfortable experience.
Hygiene is a must in any game of chastity, whether you are using for play, short or long term. Here we have devised a useful list on some ways you can keep your chastity experience clean.
Most importantly, regularly take your chastity cage off to have a thorough clean of yourself and the chastity cage, including the tube and ring. You could use hot water and soaps frequently to avoid build ups of poor odour.
Use a shower head aimed at the chastity cage, whilst wearing it. Pat dry and/or use a hairdryer on low, cool setting to dry and don't get too close.
Day to day you can use hot soapy water with cotton buds to get hard to reach spots and then use cotton buds to dry.
Sit while urinating, as we know things can become misaligned so take care to avoid accidents.
Use a chastity cage which fits well. Your penis should fill the cage comfortably and be in contact with the tube sides. The tip of your penis should press gently against the pee hole of your cage.
Use a chastity cage which has more ventilation holes, compared to closed designs. Closed cages should be removed more frequently for full cleaning.
Exercise and daily routines will factor on how frequently you should clean yourself and your cage, if you sweat or do more physical activity whilst wearing your cage you should clean more frequently. 
You do not need to wash the lock or key or your device.
When putting the cage back on yourself, use water-based lube.
If you notice any abrasions, areas of pinching, brusing or associated issues you should remove the device and assess whether a different style of cage may be better suited to you or if there is anything you can do to reduce these issues. Take a break from wearing your device until fully healed.
Main takeaway: Nothing will replace general hygiene, you should remove your chastity cage frequently and wash as you normally would. A full removal of your chastity cage should be done at least once each week.
Please note this list is not exhaustive and are not meant to replace common sense, medical or legal advice.
---